NATALYN BRADSHAW, ART HOUSE WOMEN INTERVIEW
Natalyn Bradshaw is a multidisciplinary artist and writer living in Southwest Virginia.  She enjoys writing, photography, painting, drawing, and mixed media. Natalyn's creative interests stem from the desire to express vulnerability in ways that draw people in and encourage self-reflection and awareness. Natalyn graduated from Dartmouth College in 1996 with a degree in Music. 
She and her husband have been married for almost seventeen years; they have two adult children, a teen, an almost-teen, and an eight-year-old. All of Natalyn's kids are creative, and she loves watching them create and creating things with them.
Describe your process.
I do a lot of writing, photography (especially self-portraits), creating in my art journals and on larger pieces of paper and canvas. I like to document my different stages of creating, not just the end result. Just about everything I make gets photographed, and all of the in-between stages get photographed. I cherish my analog making process but what has seemed to resonate a lot over the past couple of years has been my digital mixing of analog photos. Photos of me, my words, my art, those things get meshed into new pieces.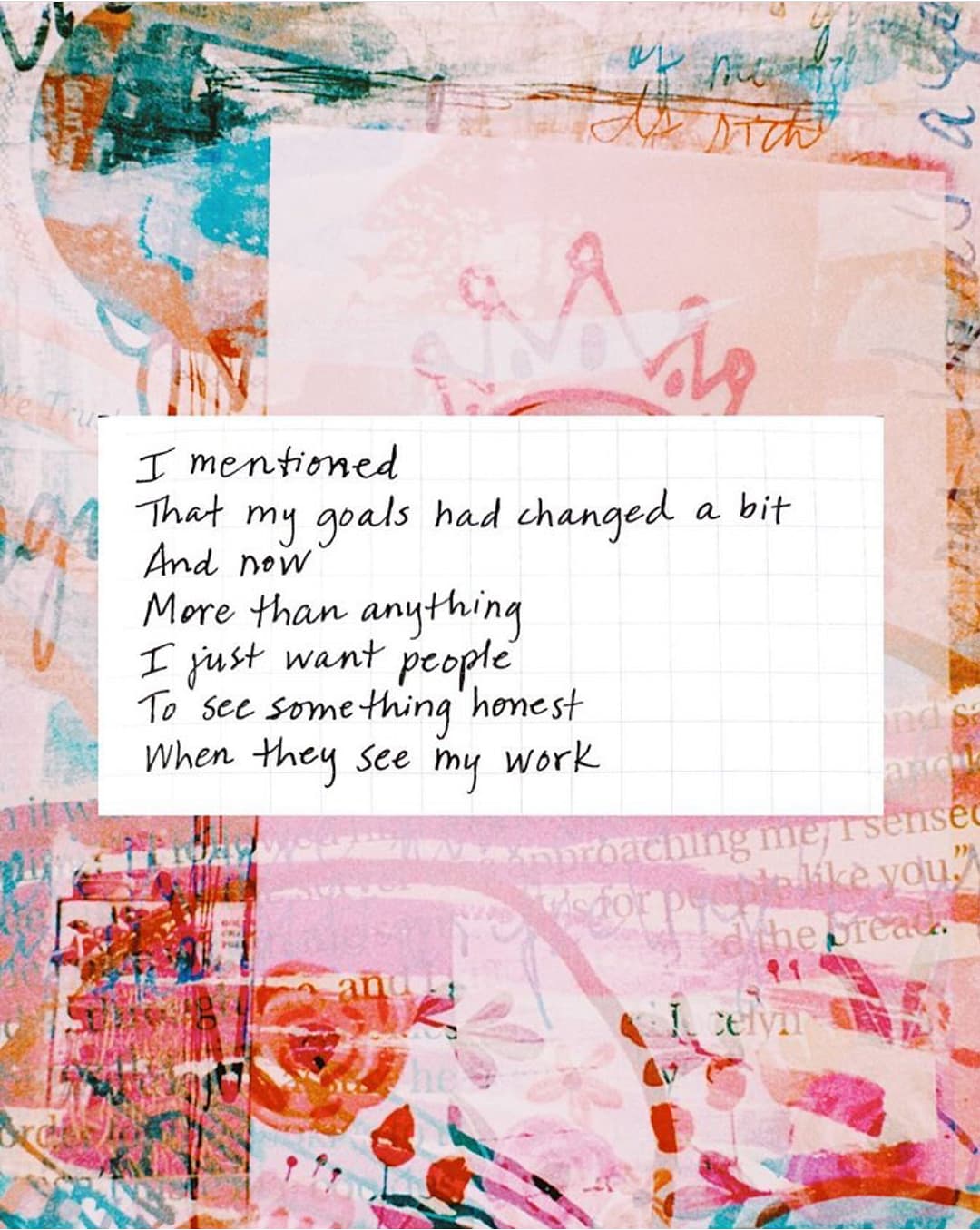 What influences your work?
Mostly memories and words (thinking of things to say). The majority of the time, that's what's influencing me currently. To a lesser degree (but it was more in the past), how I am feeling influences my work. That's actually still the case often enough with my writing.
What feeds your creativity?
Listening to music, reading, going for walks, looking at past work, looking at art and work of other artists, taking naps.
What work would you make if you were not restricted by money, space or time?
I would have a space dedicated to showcasing artwork, including mine, but also dedicated to live performances (recitals, small concerts, talks, poetry readings). I would put together various classes (art history, foreign languages, various media, literature, history, instrument lessons, gardening etc.) and have multiple teachers come in and teach. (I'd most likely teach one foreign language, art journaling, and music history/appreciation and voice.) I would center the work of marginalized women, particularly black women, and the majority of teachers I hire would be marginalized women. This would also be a space where we could come together as often as possible and have mental health check-ins and activities (exercise, walks, meditation, sound baths, naps, massages, etc.)
Do you come from a creative family?
I do! A long line of singers and musicians. My dad was a musician and he was also a self-taught photographer and he wrote poetry. My mother loved writing as well.
What other careers or jobs have you had, either before, or alongside your art practice?
I've always had a side hustle; that started in college. Most often I've been a teacher. I taught private voice lessons for over twenty years, I was a music teacher at a private arts academy for ten years. I've worked as an opera singer (I loved that) and as a church cantor. I've taught Spanish to all ages, from kindergarteners to business people, I've taught English to foreign business people. I've taught dance. I've taught flute. I've taught recorder classes to children. I've taught beginners piano to children. I've mentored my music students in photography. I've tutored all kinds of subjects. So, mostly teaching. But performing was my favorite. I love singing.
What are you really proud of about yourself?
I am super proud that every time I've really wanted to do something that seemed difficult to do or perhaps likely that I couldn't get done, I put my head down and just did it. Just got it done. I don't give up. As discouraged as I can get sometimes, I love knowing that there's a tenacity down in there that I have, and it has shown up enough times for me to remember that I really can accomplish things.
What would you tell your 10 year old self?
Everything's going to be okay. I promise. You are beautiful and brilliant, and I love you.
More of Natalyn's work
Instagram @npbradshaw
Shine a Light
Natalyn would love you to take a look at the work of these artists:
Ann Clyde @ann.clyde
Simone Bailey Campbell @simonebaileycampbell
Betsy Cañas Garmon @betsy.garmon
All Artwork and images on this page are copyright of Natalyn Bradshaw.