MORGAN AUTEN SMITH, ART HOUSE WOMEN INTERVIEW
Morgan Auten Smith was born and raised in North Georgia, USA. She is a full time art teacher, mom to three year old twins and partner to Joshua. When not teaching or painting, she enjoys taking walks, reading, and listening to podcasts.
How has your work practice changed within the covid-19 health crisis?  In terms of time, space, creativity.  Have you still been able to create?
In 2020, partly due to the Covid crisis, I have found a lot of boldness. It was like something in me snapped and was tired of caring how my work was received. I just wanted to paint what I wanted. 
Describe your current work.
My current work consists of color fields or blocks on handmade canvases. The cloth is very rough and adds a great texture to the surface of the painting.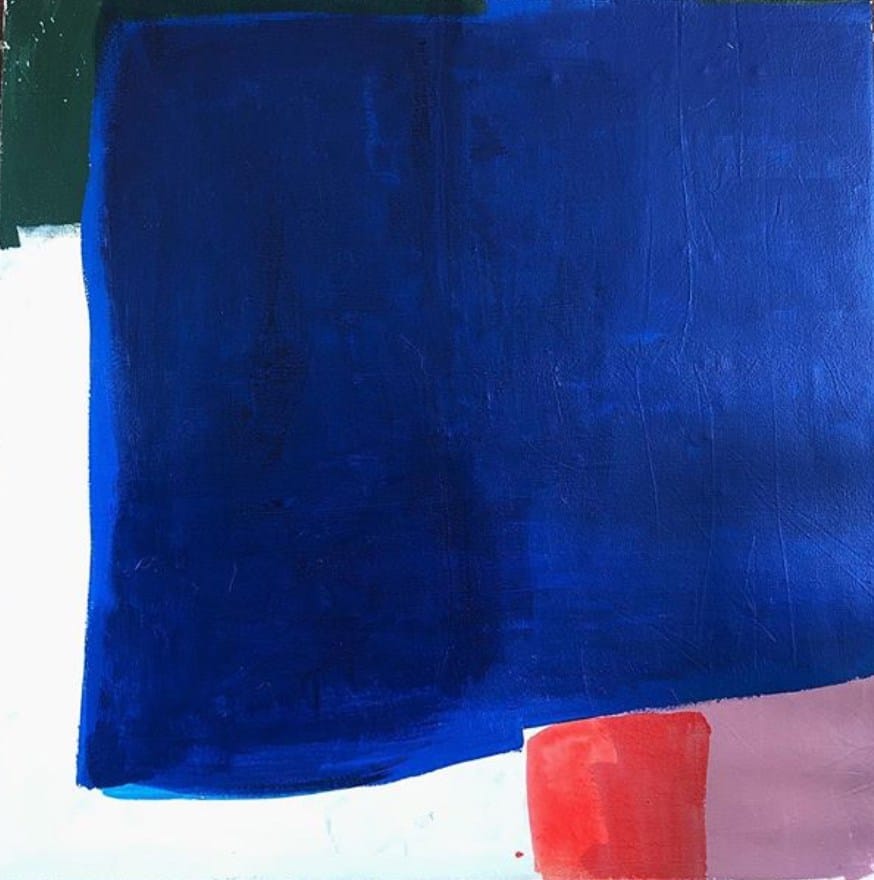 Tell us about your process.
My process is dependent on layers. I often start a painting with a color and then build on top of it until that color isn't even visible in the end result. I think every layer is important, even if you cannot see it. 
Where do you make?
I have a small studio in our basement. 
What is the hardest part about being an artist for you?
Finding a way to be gentle with myself as an artist was hard. I feel like I have finally gotten to a place where I am recognizing that I can't do it all, and it is ok if I don't paint for a week. 
How has another part of your identity impacted your artwork?
Until my kids were born, I was a ceramic artist. After they were born, I left my job teaching ceramics and thus lost my studio so I shifted my art practice to painting. I had a traumatic pregnancy and birth and my early pieces were important for my mental health. Since then, it is only this year that I would say that motherhood hasn't been a big theme in my work.
What influences your work?
Right now, I am mostly influenced by the colors I see in different places. I was just doing a virtual tour of Frida Kahlo's house and I was struck by some of the colors in her home. I plan on using one in my next piece. 
What are your favourite places to visit?
I am a country person. I prefer large open spaces, so I love being out in nature.
What feeds your creativity?
I am drawn to the work of my students. The ease with which they create astounds me. There have been times that I have taken their discarded work out of the garbage to use as inspiration. I have a sheet of colors that a student mixed hanging on my wall now. I have referred to it often.
Tell us about a piece of artwork you have in your home.
I have a piece I bought from a student I taught when I was teaching in Germany. It was a simple drawing assignment from her AP class, a thin contour line drawing of feet and painted with one color. It still hangs in our bathroom, I love it so much.
What work would you make if you were not restricted by money, space or time?
I would work very large, like mural sized pieces. 
Who in your life has been your biggest cheerleader?
My partner. He has always been so supportive of my work and pursuit of creative opportunities. 
What would you tell your 10 year old self?
That you CAN grow up to be an artist
Being an artist can often be very solitary.  In what ways do you feel like you belong to a creative community?
I am a member of the Dear Artist Community. There isn't a huge art community around where I live, and the one that does exist, is among the country club crowd. By joining this online community, I have felt creatively cared for and championed.