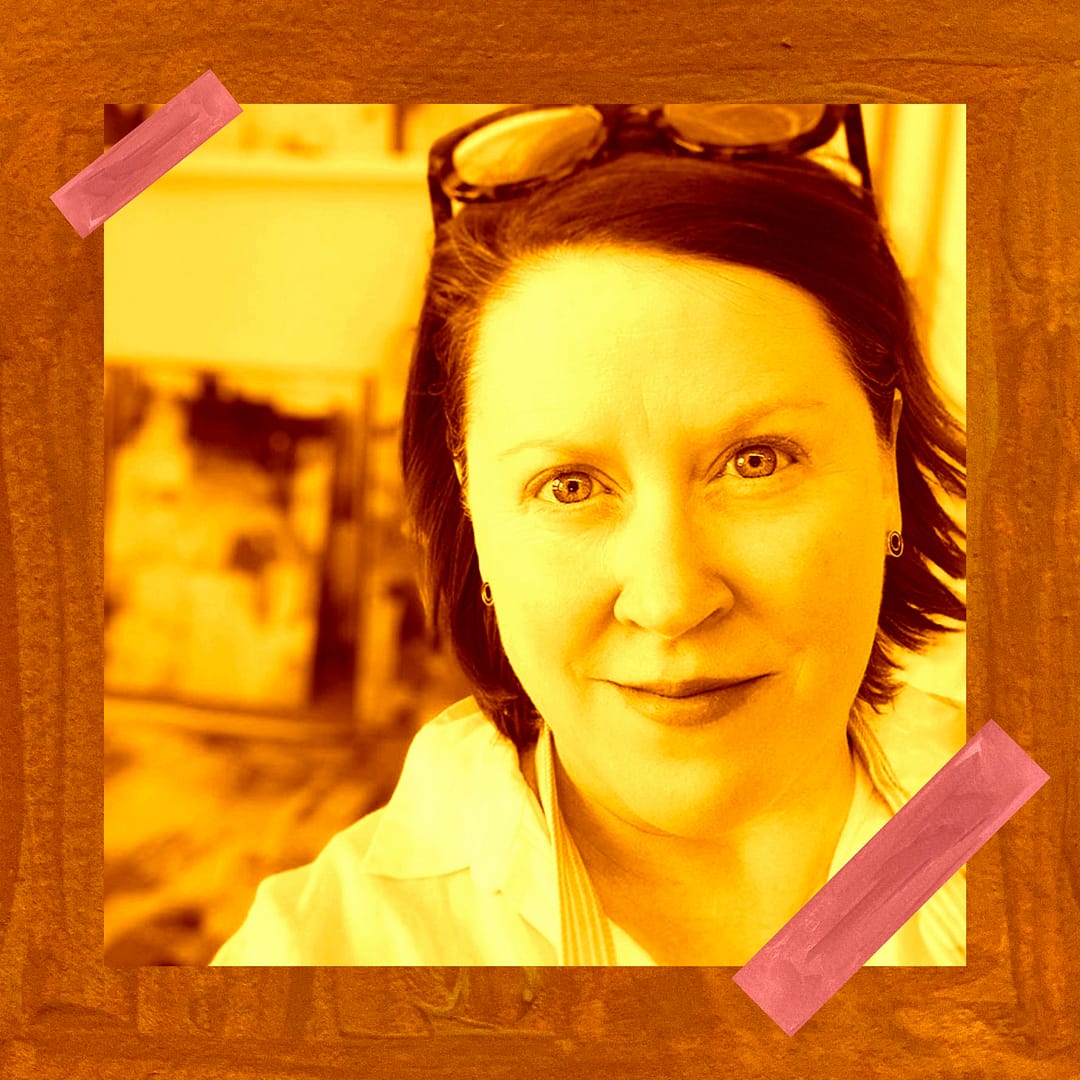 MEGAN WOODARD JOHNSON, ART HOUSE WOMEN INTERVIEW
Megan Woodard Johnson is a mixed media artist living and creating in West Bend, Wisconsin, US. She received her BFA in Graphic Design and Fine Art Printmaking from Shepherd University in West Virginia. Over the past decade, Johnson has shown her work in numerous juried and solo exhibitions and events in the midwest, taught collage and mixed media workshops and completed multiple Artist Residencies. Her work hangs in private collections across and beyond the United States and is represented in Galleries in Wisconsin, Michigan and Vermont (US). In 2019, Johnson added exhibition curator and Artist Mastermind Facilitator to her resume, building connections with and helping support artists around the country.
Where do you make?
I rent a studio in my town with an artist friend. It was once an apartment, so it's broken up into several different rooms. I love it – because aside from our wonderful individual workspaces, there's a sitting area, a storage/framing room & a spare room we've set up for photographing our work. It's 5 minutes from my home, so not a long commute – but my shift to working outside of my home (which actually happened over 5 years ago, and this is my 3rd studio) resulted in a huge up-tick in my commitment to my work and my dedication to making this artist career actually possible.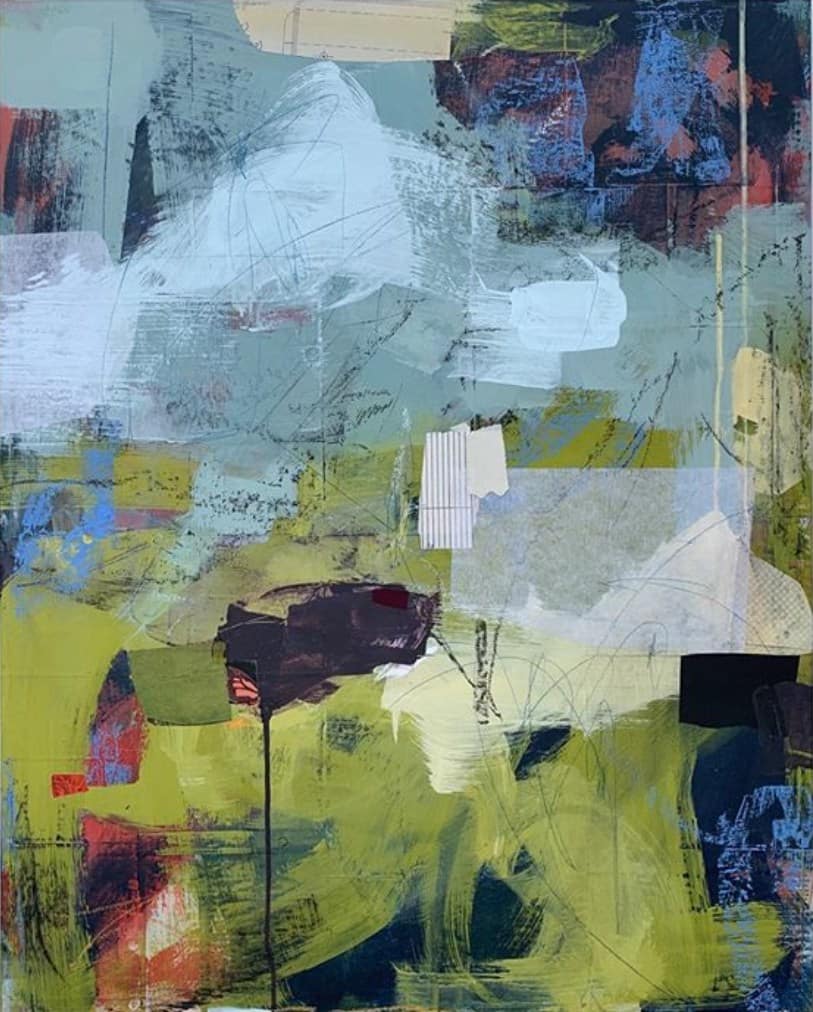 Describe your process.
My work begins with a layer of vintage papers, glued down onto a paper or panel substrate. I choose vintage papers that were used for work, teaching, record keeping or other basic functions of life, and am especially interested in pieces that have handwriting or other marks indicating use. My work is all about my fascination with the innumerable layers of moments and experiences that we each accumulate over time, and how they layer up to create who we are as people, and how we interact with one another. So starting with a background layer that hints at the structure of a life, and a moment in someone's day, is a great groundwork for me to begin . 
From there I begin to add on paint (acrylic) and marks (typically oil pastel, graphite and colored pencil) in broad, gestural strokes, in a totally unplanned, intuitive way. The overall feel of the piece changes several times as new layers are built up. Eventually, a composition and color palette begins to emerge, and my choices in terms of adding color and marks becomes more considered and detailed. I'll also begin adding in more vintage paper – often now searching for pieces with bold color or pattern, that add to the composition in the same way a paint stroke would. 
The extra elements that the collage bits bring to the piece are history and nostalgia. Somehow they imbue the work with a level of personality and story that I can never achieve with my hand alone. I love that my marks are partnering with color and design decisions that someone made 60 years ago when they were creating a book cover or product package. 
A quick or far-away glance at my work shows abstract 2-D work with a strong focus on energetic color and thoughtful composition. Coming closer, the work reveals plenty of engaging small details and connects with the viewer through recognizable vintage paper elements that trigger nostalgia and bring personal memories to the surface.
What influences your work?
I think this question can be answered in so many interesting ways. I'm inspired by many abstract artists from the past and present – but I have to be careful to not let them influence my work to the degree that my paintings begin to take on their marks. I'm also inspired by the work practices of many creatives that I've found online and in person – like their dedication, professionalism, and even their bravery and confidence. So when I find people like that, I do let them influence my work (not my art) in very important ways. 
But for myself, I think the thing that influences the growth and progress of my painting is my commitment to keeping play and experimentation a regular part of my practice. I don't worry about "wasting" materials, or even time – I believe that 'messed up' or failed work teaches me things, and flinging and pushing paint with abandon reveals exciting new methods for making marks that later end up in future work. I also find that rest and taking breaks really influences my work in a positive way. I need breaks – sometimes a month or more – where the pressure to make work is lifted. This pause usually means that ideas percolate in the background, and when I return to the studio I have renewed energy and fresh ideas. 
Being an artist can often be very solitary.  In what ways do you feel like you belong to a creative community?
I've cultivated some fantastic friendships with other artists who live in the Greater Milwaukee area – by either connecting for work dates, studio visits, or going to one another's shows and events. Those friendships have really helped balance out the long stretches of solo time in the studio. Before Covid, I had become pretty deliberate in planning days outside of the studio to meet up with artist friends at least once or twice a month. I'm really looking forward to getting back to that!
I've also reached out to artists via Instagram, and have been so pleased to find real and true friendships form right away from taking that step to make an online connection into a real life one. I now meet for Zoom meet-ups regularly with two other artists, and the personal and professional connection was immediate. The three of us are spread across the country – so meeting online was always our only option, Aside from having to put a group show we're dreaming up on hold for a little while, Covid hasn't slowed us down at all!
I've also begun facilitating Artist Mastermind groups. These small groups meet for 6 months, discussing all things art making and art-business. We all learn so much from one another and the guest experts I bring in, and the connections we form are sure to be life-long.  This has been a fantastic part of my work in the last 18 months – our Monday Zoom calls are a highlight of my week! 
What other careers or jobs have you had, either before, or alongside your art practice?
I've had project manager jobs in the Graphic Design, Non-Profit Fund Development and Event Planning fields, I love to plan a project. I've also done Grant Writing and some Marketing. Skills gained in all of those careers have had a huge impact in managing the business side of things now as a self employed artist. I've also been a mom for 18 years. I'd need another interview to expound upon the skills gained from that job! 
What are you really proud of about yourself?
I am honestly just really proud of myself for doing this. This artist thing – there's no clear career path. There are no boxes to check off to get to the next level, or mid-year reviews with a manager who's showing you what's next. It's all on you – and that can mean that you get really scared of failing, but it can also mean you see endless possibilities. I'll be honest – there are plenty of times I'm scared of the failure. But I'm really proud that the inner-voice I've listened to more is the one that's excited about the possibilities. 
I'm also really proud of myself for learning all the tech and all of the business aspects of being self-employed. I manage my own website, keep track of my inventory, manage gallery relationships, keep a spreadsheet for our accountant – I had to learn all of that myself. But the cool thing about tackling things you don't know how to do, is that you learn how to do them – and then you have not only a new skill, you have a new level of confidence in your ability to tackle challenges. 
What would you tell your 10 year old self?
My 10 year old self was in constant creative and maker mode. She had complete confidence in her own ability to translate her ideas into physical reality, even if her fingers sometimes got stuck together with Super Glue. So what I'd actually do is leave my 10 year old self to her own devices, and tell my current 46 year old self to go back and watch and learn from her.