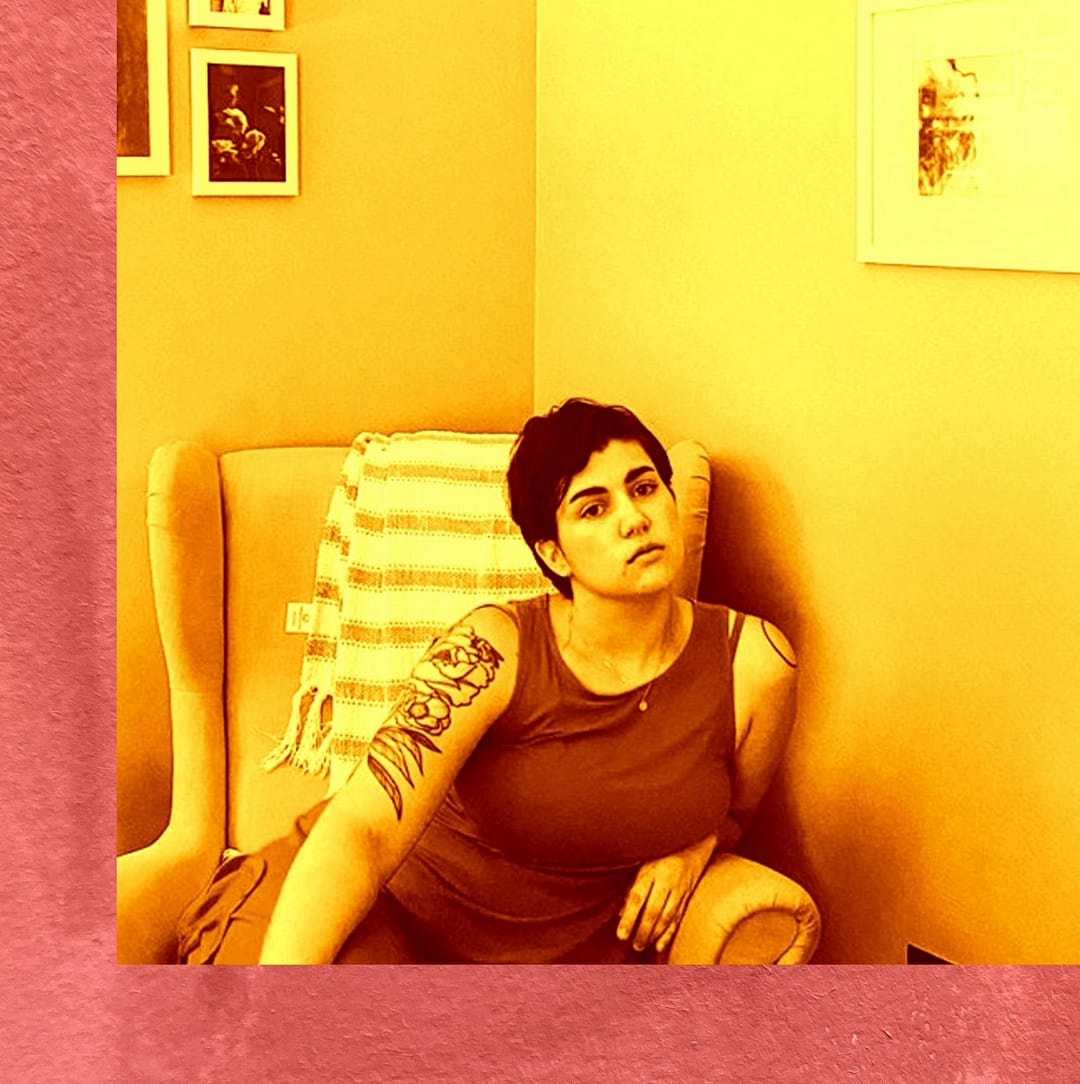 LYNAE GLASS, ART HOUSE WOMEN INTERVIEW
Lynae Glass graduated with a BA in art and a photography concentration in 2015. In 2016, Lynae gave birth to her first son and has been a stay-at-home caregiver ever since. Despite the challenges of balancing the roles of wife, mother, and artist, Lynae continues to commit time to art-making. Though she considers photography her first artistic language, Lynae also uses collage, illustration, and embroidery in her creative practice. Her work explores the tensions that exist within the role of motherhood, and questions the societal standards that are set for women.  Lynae, her husband, and their two sons currently reside in Chattanooga, TN
Tell us about your current work.
Currently my work feels like it's at a stand-still. When quarantine started, I found myself able to dive into art-making more deeply than I ever have since graduating college and becoming a wife/mother. Now my husband (a teacher) is returning to work, and my time has been taken up with all the tasks that go into being a stay-at-home parent. The last work that I really put my heart into was during a week-long virtual photography workshop with Betsy Schneider hosted by Anderson Ranch. I was spending the week alone in my home while my husband took our two children to my in-laws' house, and I found myself turning the camera around and really figuring out what it means to be in my body as a woman (not just a maternal figure). The resulting series of self-portraits are very different from anything I've made before, most of them nudes. I haven't made them accessible on my social media or website, only on my Patreon. I'm really proud of them because I felt like I was getting somewhere in my work that I hadn't been to before.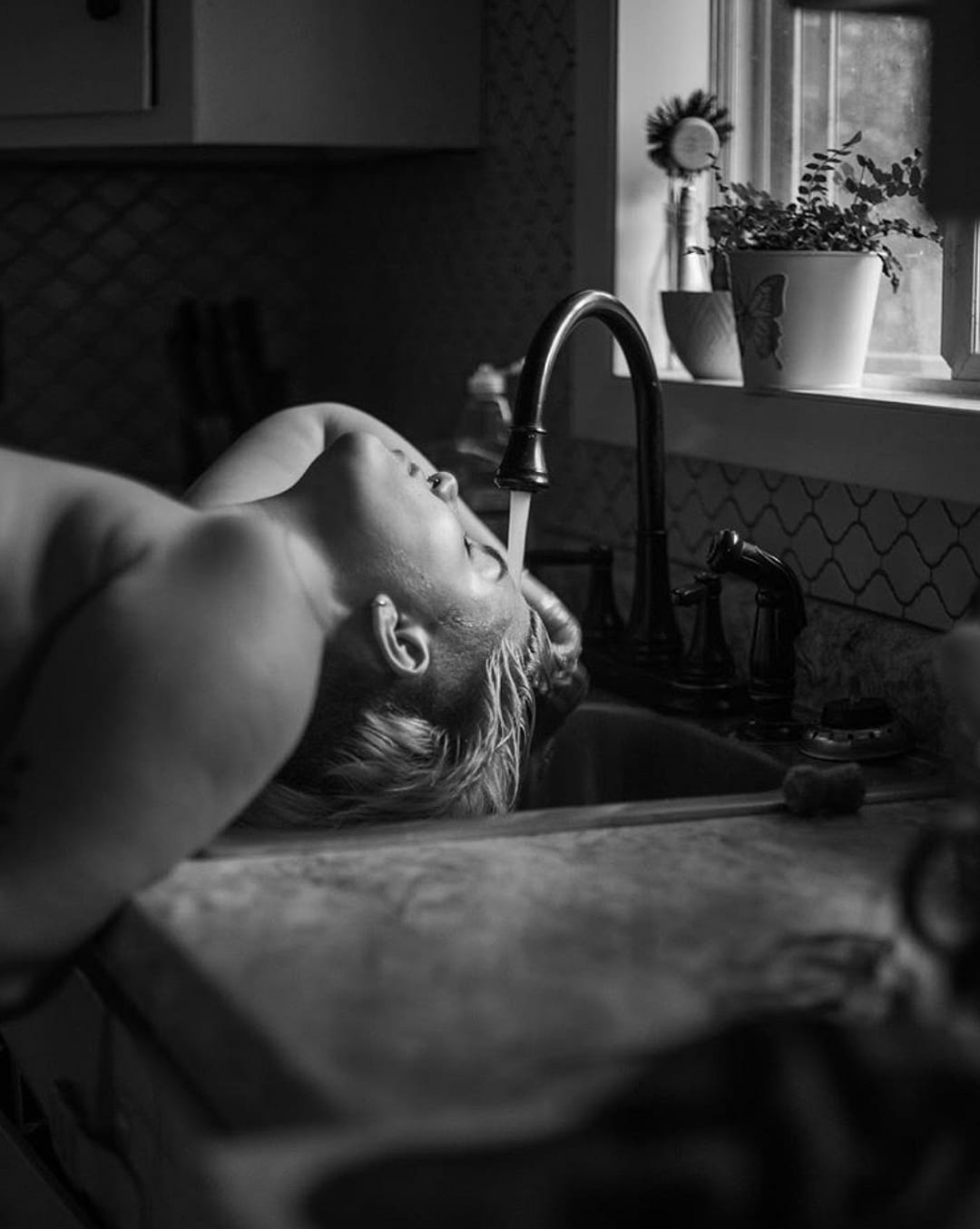 Describe your process.
My process usually begins internally. An image, a word, or an idea pops into my head and then I mull over how I want that thing to come out into the world for others to see. The medium I choose to use is influenced by the thoughts I am wanting to convey. I dabble in collage, illustration, and (more recently) embroidery, but I consider my favorite visual language to be photography. 
What influences your work?
New things that I am learning about the world (whether it be on the news, or through social media), the work of other artists, and the everyday situations and emotions that come along with being a woman who is also figuring out the roles of wife and mother. 
How have parts of your identity (gender, race, heritage, family, personality etc) impacted your artwork?
I am half-Lebanese (my mother's side), so I'm really interested in exploring the maternal figures in my family and how they influence my identity — especially now that I'm a mother myself. I am a strong woman, and I come from a family of strong women so part of my goal in my art-making has been for my work to honor and reflect the strength and innovation that is a part of my heritage.
Do you come from a creative family?
Yes, my mom always said she wasn't creative but she was always coming up with fun things to do or smart solutions to things and alot of my childhood is documented on home video tapes. My dad was the one who really got me interested in photography and that combined with my mom's interest in documenting everything really pushed me towards art as my area of study and photography as my medium of choice.
Who in your life has been your biggest cheerleader?
My mom and my husband. My mom has never discouraged me from a dream or a goal that I've had, and she's never told me that something was un-achievable for me. She has shown up in some way to cheer me on for every single milestone that I've experienced in my life (despite geographical distance at times) and I honestly don't know where I would be without her. I think part of the reason I was so drawn to my husband was because he shares a lot of the amazing qualities my mom has – being a great encourager and always finding ways to support me and really listen to me. In a lot of ways my husband has affirmed me as an artist long before I was able to see value in my own work.
Tell us about a moment that affirmed to you that you were meant to live a creative life.
I can't really pinpoint just one, but I think some of the moments that have really affirmed that I am meant to live a creative life have been the moments when I haven't been able to create for one reason or another. I become depressed, anxious, and feel purposeless when I'm not making things and putting them out into the world. My husband has commented that I am one of those people who has to be creating to be functioning in a healthy way.
Tell us about a piece of artwork you have in your home.
We just moved into a new home and we have yet to put artwork on the walls, but I already have drawings my kids have made hanging on the fridge. I don't keep everything they make,  but I love honoring it and hanging it up on the walls.
What role(s) has being female played in your creative life?
Creatively, being female has been a central theme in my work this past year. I've been exploring what it means to be in my body, to have a body that menstruates, to be a female in "traditional" gender roles, and particularly what all of those things mean to me as someone who grew up relatively sheltered.
What feeds your creativity?
Being alone always helps me to re-center and re-fuel my creative energy. I also really appreciate conversations with other women creatives who have similar interests. 
What work would you make if you were not restricted by money, space or time?
I would probably make a really big photographic series and/or a large installation made with weird found materials.
What is the hardest part about being an artist for you?
Right now, the hardest part of being an artist is that I am still in the beginning stages of finding my footing and my voice creatively but I'm also trying to balance that with being a wife and mother. Sometimes it can be tempting to look at motherhood as a roadblock in my creative journey, so I have to consciously think of my roles as opportunities for growth and for finding inspiration for future work. 
What are you really proud of about yourself?
I'm proud of myself for continuing to create and continuing to find ways to grow as an artist even when it has felt like it would be easier to just give up altogether. 
What would you tell your 10 year old self?
I would tell her to just keep being silly and creative and weird and not to worry about what other people think.
What message would you like to give to other female artists and creatives?
To just keep making work, even if it doesn't get alot of attention and even if it's not making you much money. Your work is important, and what you have to say is important.