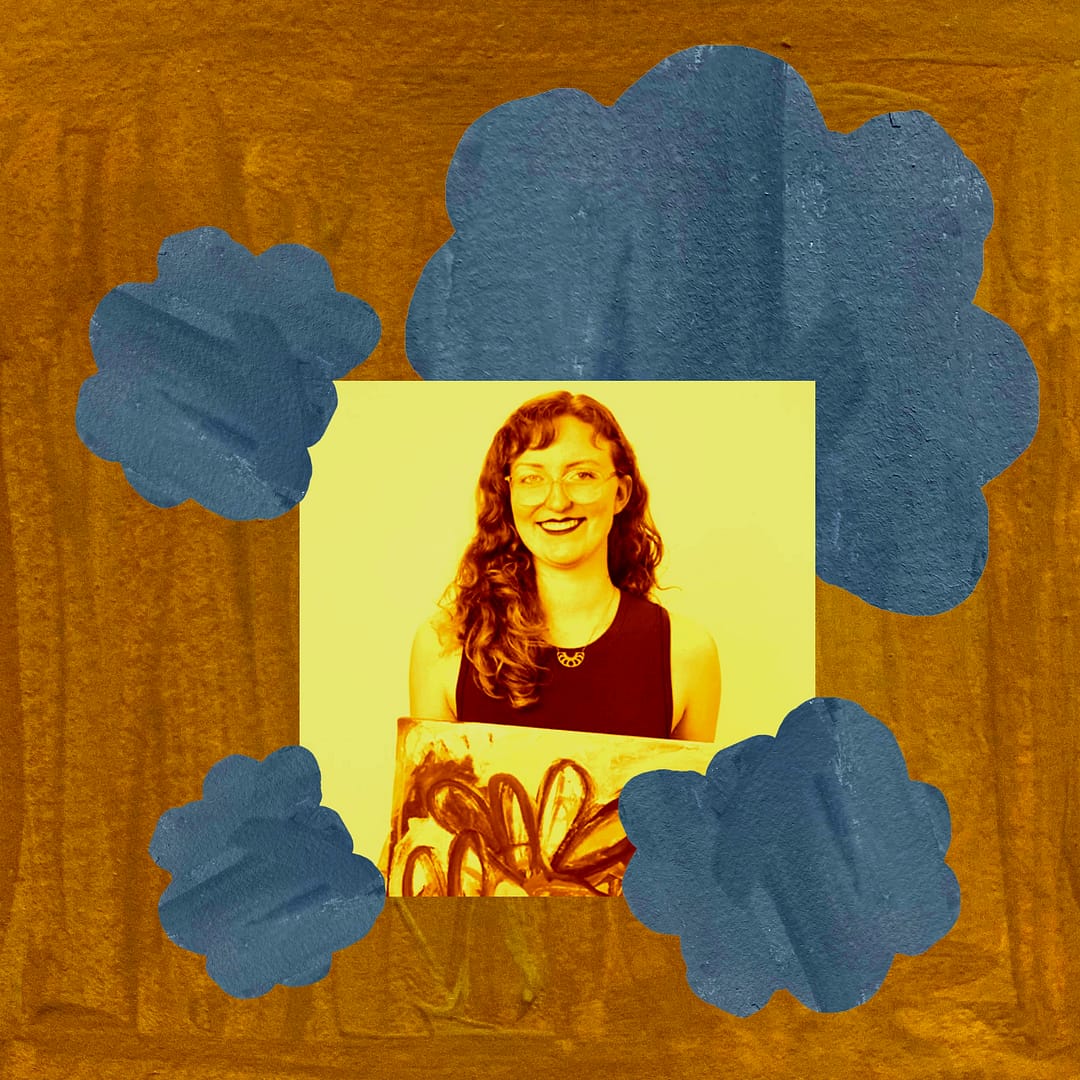 HANNAH KAPLAN, ART HOUSE WOMEN INTERVIEW
Hannah Kaplan is a multidisciplinary artist located in Toronto, Canada.  She graduated from Ontario College of Art and Design with a BFA in Interdisciplinary Arts: Life Studies in 2017, part of the first class to graduate from this new program. A desire to express her subconscious intuitively has led her to develop an abstract painting practice that promotes healing through art, based on ideas of embracing imperfections and self-acceptance through creativity.
Describe your current work.
Over the years my work has evolved, with many peaks and valleys, as I have attempted to discover my own unique artistic style. Recently I have been gravitating towards more architectural shapes in my abstract painting process, which feels fitting with so many of us being stuck at home right now. It's extremely important to me that I feel open to experimentation and changing my style as I go as opposed to repeating the same formula over and over.  It's in the unexpected that really exciting work can arise and that's what I love about abstract intuitive painting.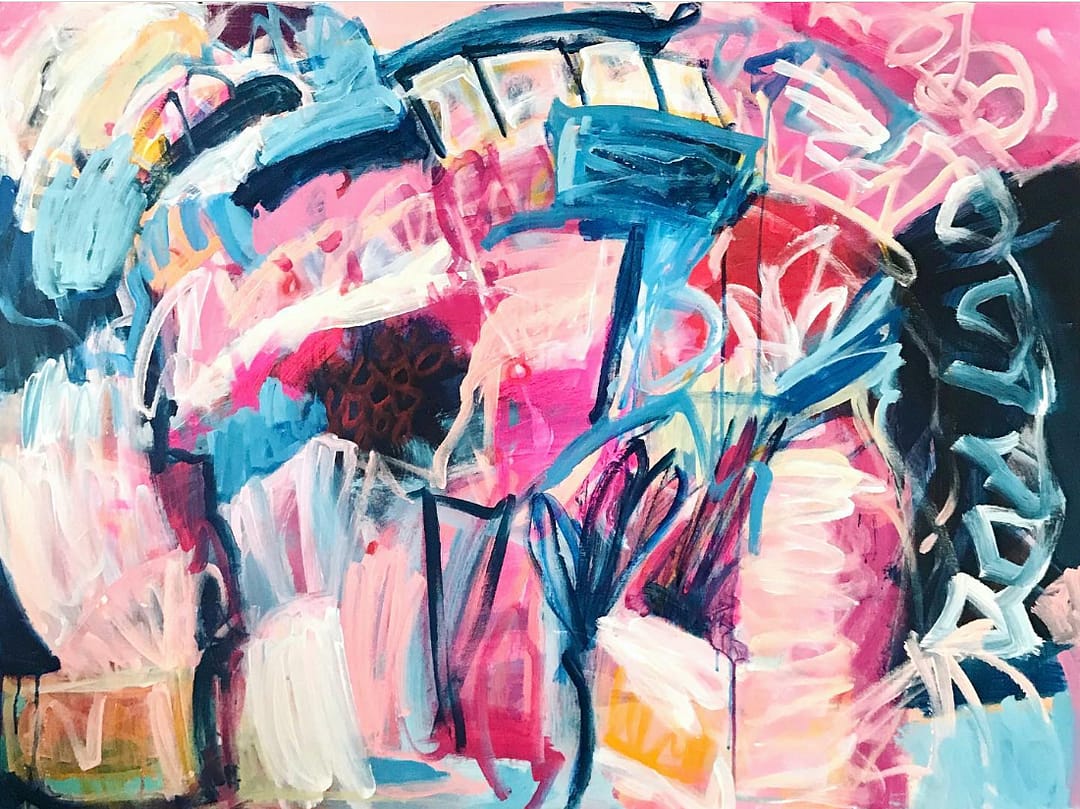 Tell us about your process.
An integral part of my process is about having the freedom to play and get messy without fear, which I often do especially in the earlier stages, and then I can go back and block out the messiest parts until I am left with something that fits together (like a puzzle) in a satisfying way. This way the energy still comes through while retaining some necessary structure. I am all about those moments where the background shines through!
What influences your work?
I have been immensely inspired by so many great abstract artists on Instagram over the years. I first started abstract painting when I was about halfway through art school. I was feeling frustrated about my art practice, like I had a lot inside me that needed to be expressed but I wasn't able to connect to that through my school projects without being overly literal. It wasn't until I came across abstract art on Instagram that I started to get inspired and feel like maybe this was a way that I could finally express what was inside me. I am continually inspired and influenced by all kinds of art, especially those with bright colours, expressive marks, and a sense of energy and passion.
Being an artist can often be very solitary.  In what ways do you feel like you belong to a creative community?
I'm a total introvert, and I spend most of my time at home where a small corner of my apartment is dedicated to making art. In spite of not being physically surrounded by other artists, I have been so lucky and thankful for the friends I have made all over the world through Instagram. I get to connect with people who gravitate towards my art and my message, and I find that the more I share about my personal journey, struggles and all, and how I've learned to use art as a form of therapy, the more others are empowered to open up to me and create and foster an online community. It's an amazing feeling to have so many people I feel I can reach out to to talk about art and life even though we have never met in person (hopefully one day we will!).
What is the hardest part about being an artist for you?
The hardest part about being an artist is separating my sense of worth as a human from my creative achievements. I find that I go through periods of time where it's not that it comes easy, but the painting process just flows and I don't question it and I feel confident that it's going somewhere good. But the flip side of that is the periods where nothing is working how I want it to, I'm probably overthinking everything and allowing myself to compare myself to other artists. I always try to remind myself that this is temporary and the artistic process needs the highs and the lows, but when I'm in a low it can be extremely discouraging! It helps to have other artistic pursuits that I can turn to in that situation – for example, I can knit or draw or collage so that I am still able to address that call to create that is coming from inside me, while also getting to take a step back from what I regularly do.
What would you tell your 10 year old self?
I struggled a lot through my childhood, as well as in my teen years and early adult life, with feeling like I wasn't good enough. My main concern was always what other people thought of me, rather than focusing on what I wanted or what I thought of myself. This led to a cycle of negative thoughts where I was continually confirming the idea that I wasn't good enough through my own words and actions. I would tell my 10 year old self that you can never make everyone happy with the choices you make, so you need to focus on what makes you happy. You will never live a satisfying and fulfilling life if you are so focused on what other people want from you that you don't take the time to be kind to yourself. Don't sacrifice what your inner voice is telling you in an attempt to make people like you. It doesn't work like that! If you are truly yourself and follow your inner compass, people who relate to you will find you, and those connections are so much more valuable than the ones where you have to sacrifice yourself in order to hold onto them.
As well as her expressive abstract paintings, Hannah also creates beautiful digital portraits.