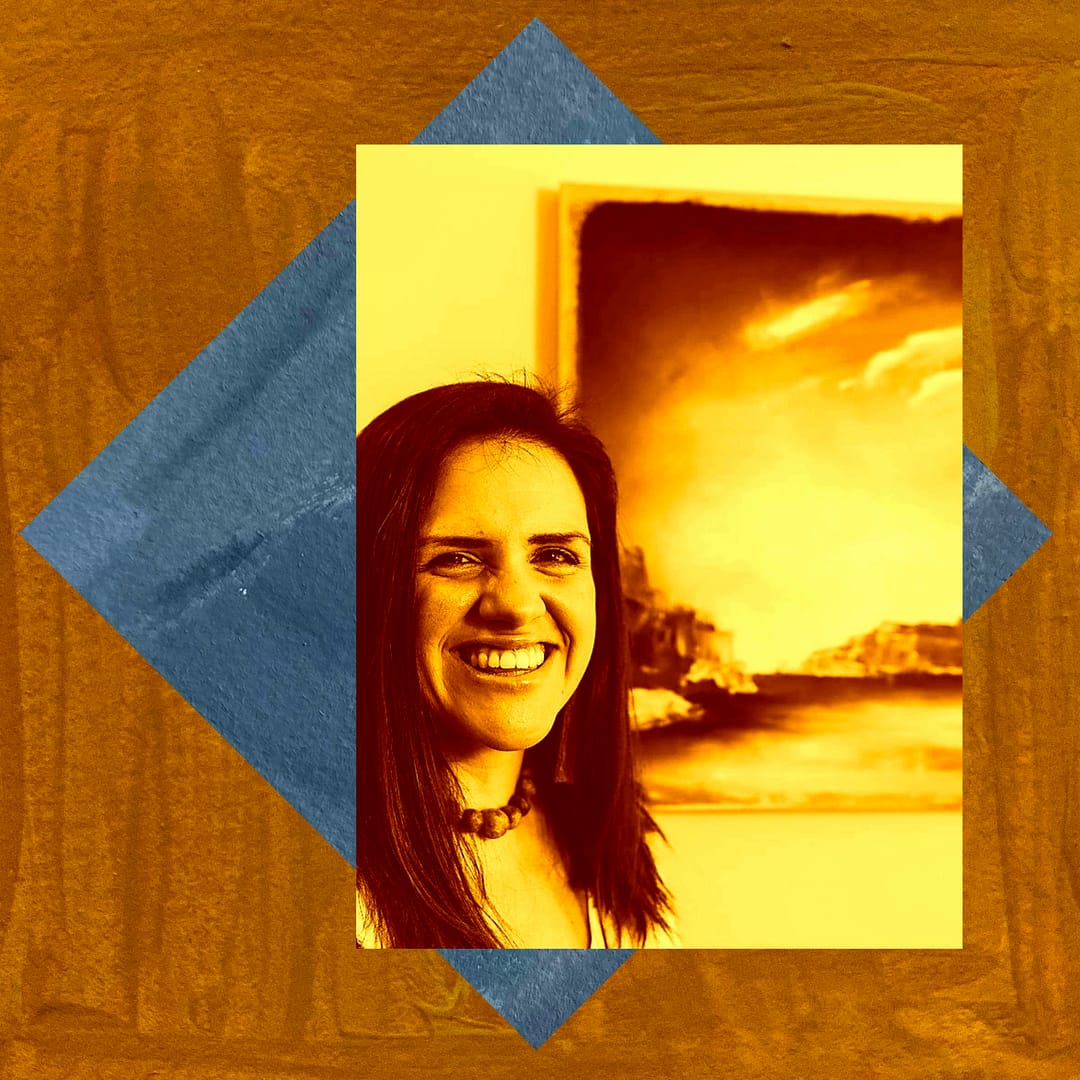 EMZ FINCH, ART HOUSE WOMEN INTERVIEW
Emz is a contemporary artist, living and working from her home studio in South West London.  She has a particular interest in impressionism and likes to make paintings that focus on bold colour and striking marks.  Emz was an art scholar at school and took twelve years out from painting to go to university, get a city job and become a mum.  Since having her daughter, Martha, Emz completed a foundation at the London Fine Art Studios, won a scholarship to the Creative Visionary Programme 2019 and sells work online and through First View Gallery in Wiltshire.
Emz has been disabled all her adult life following a failed hip replacement when she was just 18.  Painting is fundamental to her acceptance of the disability.  It allows her the space to feel herself again and has helped a huge deal to come to terms with life with reduced mobility.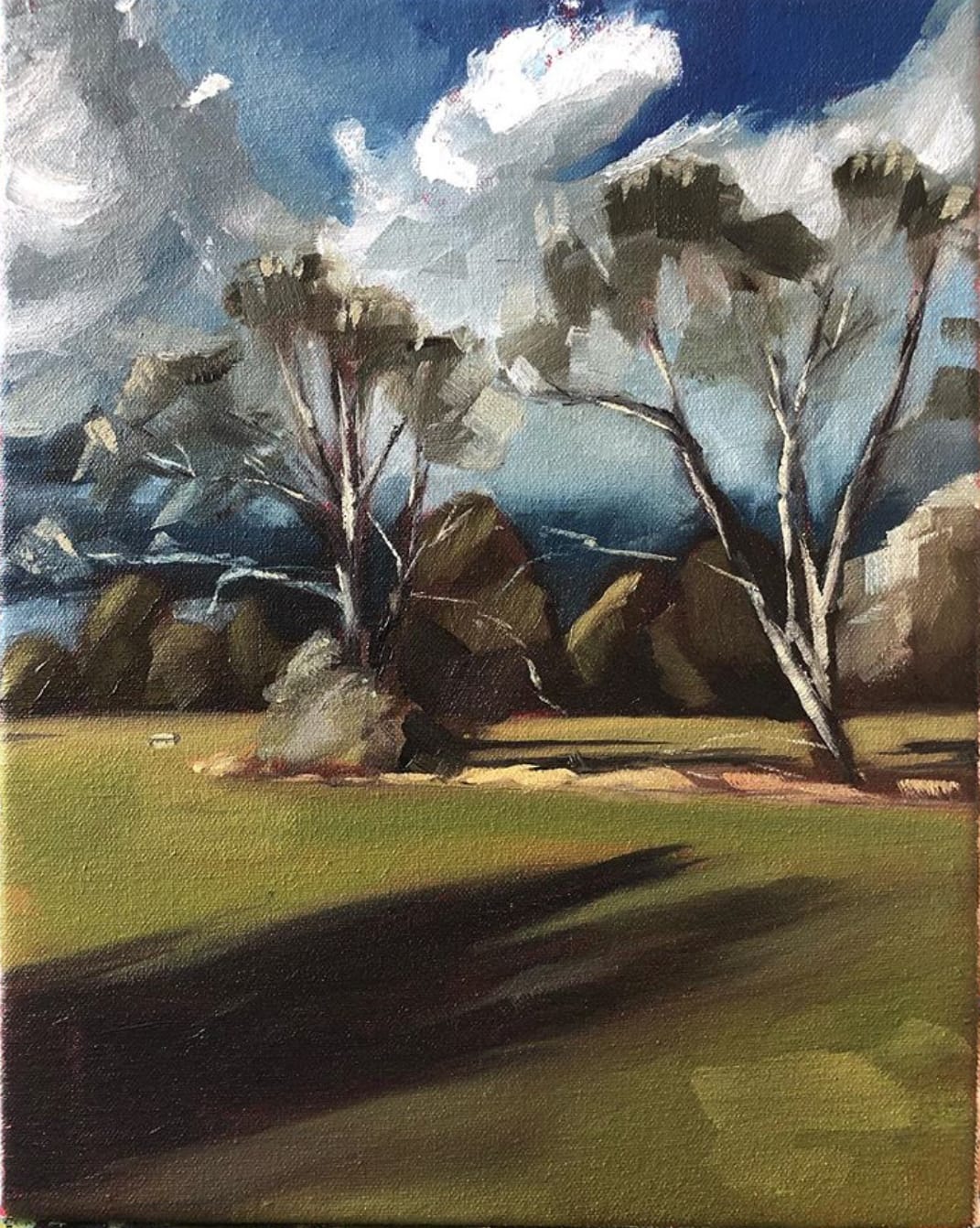 Describe your current work.
My current series is called Green London – a celebration of all the amazing green spaces in our beautiful capital.  I've been mulling this series over for a couple of years, but now, with our daily exercise so restricted recently, green spaces in London are being explored, enjoyed and appreciated again.  After a major operation on my ankle in December 2019, I was just coming to the end of enforced lockdown at home, just at the time when lockdown for corona began.  I'm currently on 23 weeks indoors, so painting these green landscapes are proving to be cathartic and a fantastic therapy for me – a way of me remembering some lovely places I'll be visiting again soon. I paint in oil on (preferably) hand-stretched canvas, and I've been taking part in the #artistsupportpledge instigated by @matthewburrowsstudios, so I've mainly been focusing on smaller landscapes – perfect to bring a moment of calm to a gallery wall.
Where do you make? 
I'm extremely lucky to be married to a builder, and in exchange for moving 3 times in 7 years, I negotiated a studio in one part of our loft.  It's everything I could have dreamed of – a sink, a 1.5 m window looking out on some lovely trees and a 4 meter painting wall!  I'm a very lucky girl indeed.
Tell us about your process.
After a busy day mumming, it's really important for me to switch into artist mode.  Once Martha is in bed and my husband is fed, I head to the studio at around 8pm. I light a candle and do a really short 3-5 minute meditation to make the switch into 'creating' mode.  I work on a desktop easel and tend to find an image to paint that really grabs me – even when working on a commission, I need to be grabbed by the image before I'll contemplate painting it.  I paint a small painting in one sitting, usually listening to a podcast (Art Juice, Table Manners and Talk Art being some of my favourites).
What influences your work?
I grew up on an organic farm in Wiltshire and I need green space to be able to breathe deeply.  The vast majority of my landscapes have some form of green space in them!
Being an artist can often be very solitary.  In what ways do you feel like you belong to a creative community?
I am a member of Alice Sheridan's Connected Artist club which is a group of over 40 artists sharing advice, knowledge and coming together on weekly calls.  It's an amazing community and one that makes you feel like you always have someone to turn to for advice or to share a win with!  I've also made some really lovely friends just by reaching out to them on Instagram and Facebook – some of them I'd call good friends, but I've not actually ever met them in person!
What other careers or jobs have you had, either before, or alongside your art practice?
I worked for 5.5 years as an IT consultant but by the end of this, I had dropped down to 4 days a week to do a part time art foundation course.  I then moved to TV – working for a production company who made 7 productions with David Attenborough!  I'd speak to him very regularly and, yes, he is a total legend.
What would you tell your 10 year old self?
Patience. It may take time for you to be in a position in your life where you can paint, but it will come.  Have patience, don't rush and believe in yourself!
More of Emz's work
Website emzfinchart.co.uk 
Instagram @emzfinchart 
Facebook @emzfinchart
Shine a Light
Emz would love you to take a look at the work of these artists:
Laura Rich @laurarichpainter – is the reason I'm an artist; I went to an oil painting one-day workshop with her and caught the bug.
Hester Berry @hester_berry – is a huge huge influence on me.  The way she captures light is just incredible.
Rebecca Chapman @rebeccachapmanart – is an artist and mum who's creating with the spare 15 mins she has available in a day.  It's very impressive, bold and colourful stuff.
All Artwork and images on this page are copyright of Emz Finch.