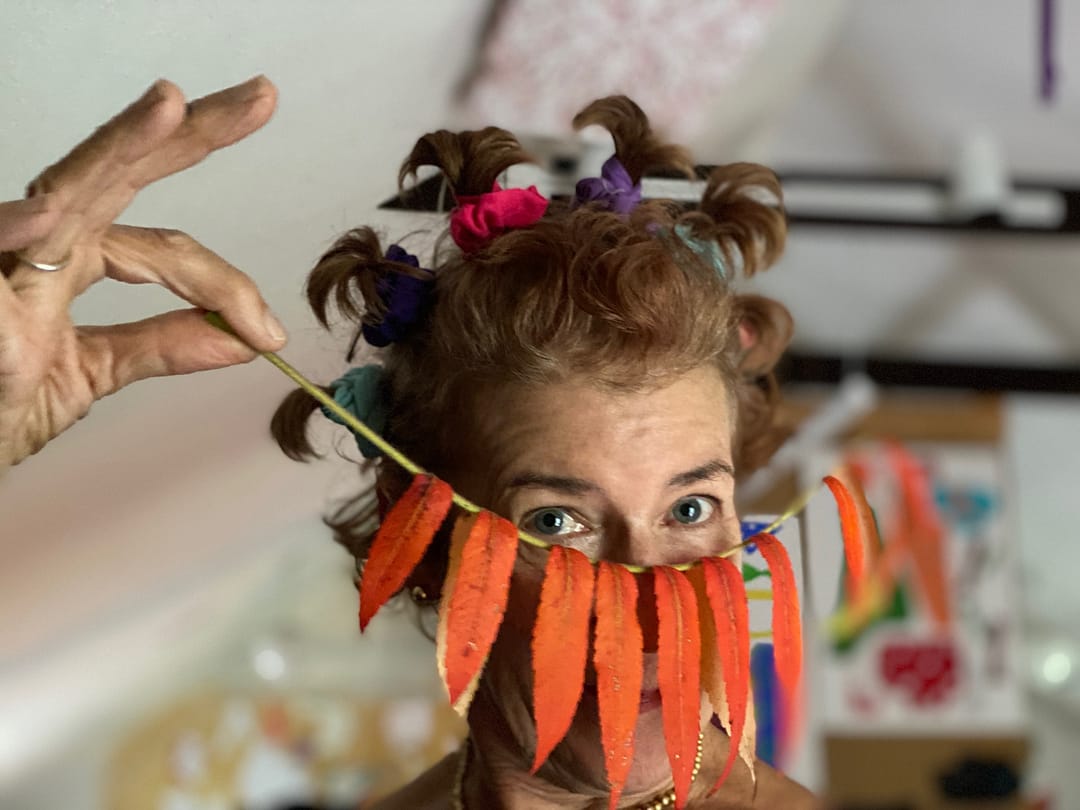 ELIZABETH WICKENDEN MCMAHON, ART HOUSE WOMEN INTERVIEW
Elizabeth McMahon is an artist whose love of color and happenstance has inspired her work from painting to songwriting, puppetry to collage. She studied at Parsons School of Design in Fashion and transferred to Painting at Syracuse University. In the '80s she joined the Adam Gimbel Gallery in NYC and began a family.  She shifted her focus to songwriting and puppetry, winning a Parent Choice Award for her recording "'Waltzing with Fireflies". Her love of spontaneity and fun were front and center then and now. From her gigantic cakes of the '80s to her Tea Party Shuffle Dance Song to the latest Bricolage "A Spoon and a Fork, from Picnic to Paradise" Elizabeth embraces the moment and translates her life into art.
What feeds your creativity?
Being happy. Living life lightly. Being in nature. Going to a new place. Visiting museums and galleries. Having a group of artists to belong to that support and cheer each other on. 
What other careers or jobs have you had, either before, or alongside your art practice?
When I was a mother, I took a break from making fine art. I was looking for a different format for my creativity, something that was compatible with my life with young children.  I saw the nursery school teacher using simple puppets and it was magical and so I began making puppets for my children. This activity blossomed and I created a character called Mrs. McPuppet. She would take her music and collection of puppets and perform in the round in schools, museums, and theaters. Over the course of the 25 years, four albums were recorded. The music is now out there on the world wide web.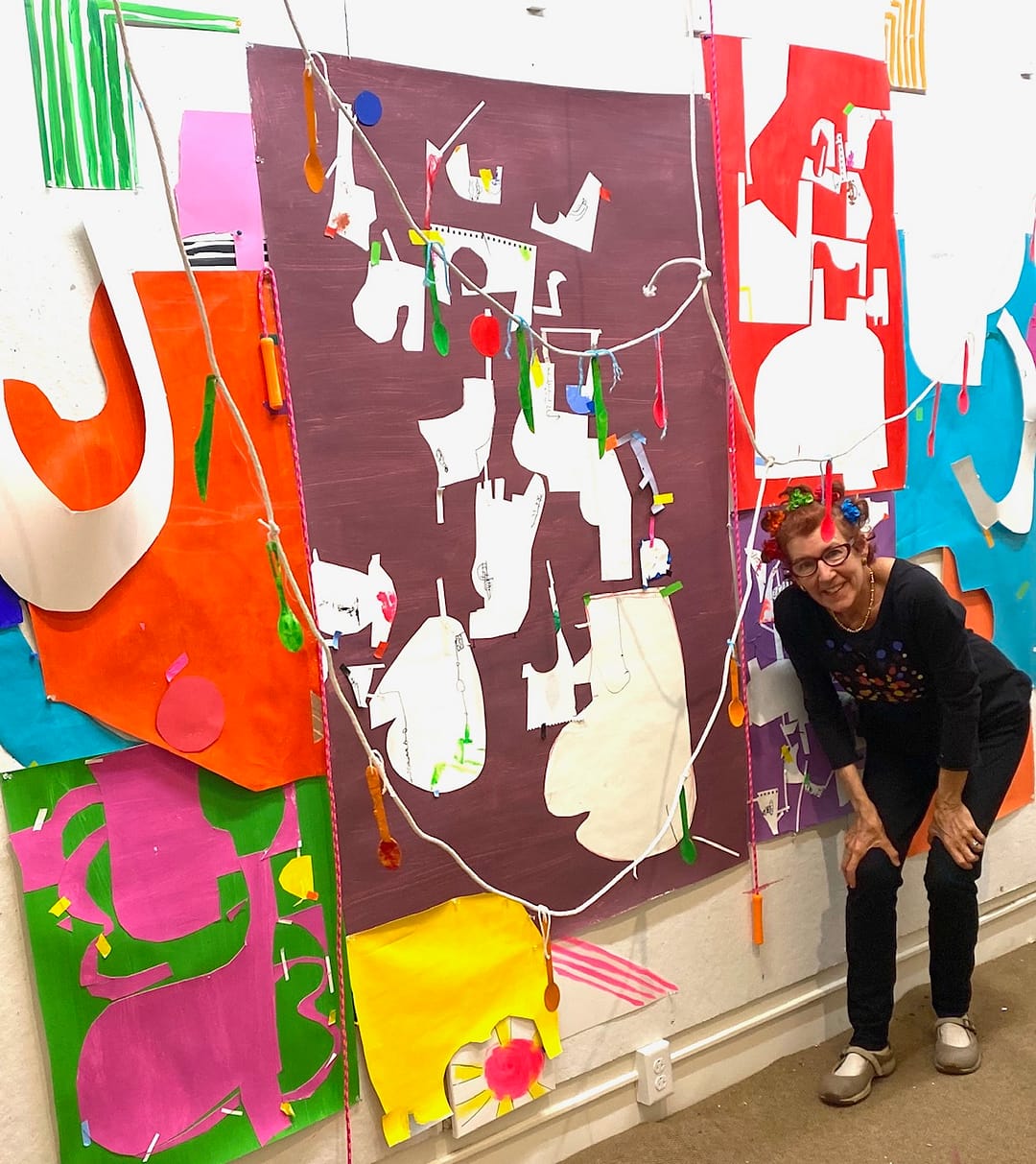 Tell us about your current work.
I have several series in the works right now, large and small. The 'Backpacks' are 12" by 16" and are layered and decorative. The 'Bricolages' are on a grander scale, wall size. They contain a lexicon of shapes that can straddle the line between the real and the abstract.
Where do you make?
I have moved my studio into an attic-like space at the back of our old farmhouse. It's atmospheric and magical. During the warmer months I have access to a barn!
What is the hardest part about being an artist for you?
So many ideas, so little time. 
Being an artist can often be very solitary.  In what ways do you feel like you belong to a creative community?
Recently I have become part of a group of artists with an artist mentor through the Artist Mother Crit group. That has provided the support and camaraderie I was missing. It has been a game-changer.  I am inspired by my artist friends and it's wonderful to have a mentor to share ideas with.
What message would you like to give to other female artists and creatives?
Find other artists that are supportive and enjoy your work. Being in a vacuum slows you down and stifles your energy.
Do you come from a creative family?
Yes, both my parents were makers and approached life as an adventure to experience. My father had a big organic garden and compost. He made and repaired things in his workshop. He would take us ice-fishing and while we waited for a fish to bite, he would pick us up and hold a sail he had made with a wooden cross piece and we'd go flying across the ice. The next winter he made a silver iceboat from scratch in the garage. My mother had a sewing room where she made clothes and taught me how to do the same.  She knitted sweaters with squirrels and dancing girls on them. The outdoors and nature were the backdrop and source of enjoyment for our family activities. Exercise, games, building, sewing, were all mixed in with everyday life.
Everyone in my family is involved in the arts, one son is a sculptor, Ian McMahon, and the other Brendan Cory McMahon, is a Latin American Art Historian at the University of Michigan. Both their partners are artists and my husband is always making something!  It is really fun to have a family of artists; I feel very lucky about that.
What role has being female played in your creative life?
My mother would take me to the material store and encourage me to choose the colors and prints that I liked. She would make them into party dresses. That began my love affair with color. The fashion magazines provided material for collage and bulletin board art. I think the impulse to decorate and make myself the art object has stayed with me from a child through my years as Mrs. McPuppet and now by including myself in relationship to my work, the shapes, the objects, the settings.
What are your favorite places to visit?
Guatemala is a favorite place to visit.  I enjoy interacting with people and exploring the markets, museums, and churches. Mixing the cities with the forests and jungles combines a love of birding with a love of the culture.
Tell us about a piece of artwork you have in your home.
We have a bowl decorated with hummingbirds that was made in Peru by the Nazca between 500-800 AD.  Having something beautiful from so long ago is thrilling.
What are you really proud of about yourself?
That's a toughie. Having grown up in the 50's, modesty was in the air. Being proud was not something I saw in the behavior of the women or men around me. When pressed to answer I am proud or rather happy, about my family (husband and children), and that I am thankful to have found my way to a creative life that is full of fun, joy, and discovery.