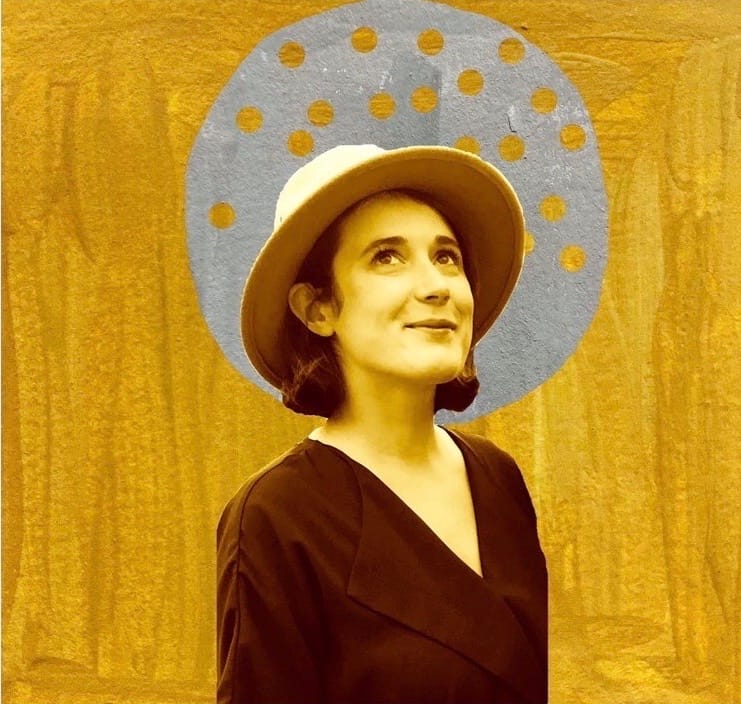 BERTILLE DE LESTRADE, ART HOUSE WOMEN INTERVIEW
Bertille de Lestrade is a French mixed media artist living in Ireland.  Her childhood was a happy mess of paint, clay, paper, glue, threads, textures and colours, art and crafts in all their forms. She grew up in France but has been living in Ireland for the past 10 years. She studied English (literature, language, art, history) and translation in Bordeaux.  Since moving to Ireland she has worked as a freelance writer, translator, and runs an online vintage shop.
How has your work practice changed within the covid-19 health crisis?  In terms of time, space, creativity.  Are you still able to create?
Before COVID, I was already working hard towards opening a shop in which I will be selling my creations. I was in a bit of a manic creative phase and it hasn't stopped. I've only had to adapt to the restrictions and lack of time on my own (I have a two year old boy). In a way, I think it's teaching me a lot and giving me the discipline I was lacking, but I'm so looking forward to having the house to myself again so I can create without interruption!
Describe your current work.
I'm currently (and always!) working on several projects, with different mediums. I started an Instagram account (@cettemaisonbleue) on which I post paintings of people's interiors. Home is a big thing for me and I find this process more intimate than painting traditional portraits. I've also been working on a mixed media series called Childhood. All the pieces from this series feature a vintage photo which outline I duplicate and paint in different colours, to convey the multiplicity of that period in one's life, how bright and dark it can be, how one evolves. Collage is something I've enjoyed for a long time and I have a lot of new ideas I'm starting to execute, or plan for the big post COVID relief!
Tell us about your process.
I don't have a set process, I think. Ideas come with a real urge, a vision I want to execute and it doesn't always work out the way I had thought of course, but it's so exciting. The more I create the less careful and self restrained I am. I try to just jump into something instead of dwelling on timid little sketches for ages, but it still happens!
What feeds your creativity?
I'm a very nostalgic person, so I'm mostly inspired by memories, childhood, cinema, old photographs and books which I use a lot. What moves me the most in life and in art is the mundane. I find that it's the small things of our everyday life that hold the most sincere poetry. They just have to be captured with the same pure sincerity. I think that's why as much as I admire the skills and technique of hyper realistic stuff, it doesn't move me one bit and I much prefer flawed, naive art. 
Tell us about a moment that affirmed to you that you were meant to live a creative life.
There have been many, and I always knew I was meant to create things, it's just always been in me, but I didn't always have the courage and self confidence to put it out there. I'm a hyper-sensitive person, like most creatives I suppose, and as such, more prone to bouts of anxiety and depression. I recently experienced my worst depressive episode after 2 years full of massive life changes, and with the relief of coming out of it, feeling so alive again, came a sort of epiphany. I realised I just owed it to myself to go after what truly makes me happy and had nothing to lose!
Do you come from a creative family?
Yes, very, especially my mother. She's a self-taught artist and a popular children's books author, Agnes de Lestrade.  My dad is extremely creative too in a different way, he's a journalist and more an inventor than an artist. He and my mum have created several board games.
Being an artist can often be very solitary.  In what ways do you feel like you belong to a creative community?
Instagram has been absolutely life changing in that respect. I found such an incredibly kind, engaging, supportive community, it's done wonders for my confidence. I feel like I know all these people personally, I care a lot about them.
What is the hardest part about being an artist for you?
Pushing through self doubt and the emotional rollercoaster that is being a woman and a human, especially a hyper sensitive one! But I wouldn't exchange it for the world! I also find selling and promoting myself really difficult, as well as reaching out, just ASKING.  There's an amazing Ted Talk and book about that, both called "The Art of Asking" by songwriter / singer / musician Amanda Palmer.  I really recommend it to any independent artist who struggles with their status.
What role has being female played in your creative life?
I think the most challenging things about being a creative are not exclusive to women, only like most aspects of life, we experience them with the added burden of our society's misogyny and sexism. So maybe it's extra hard to affirm ourselves, put ourselves out there, feel legitimate, reach out, ask, be seen. But things are changing for the better!
What message would you like to give to other female artists and creatives?
Just a little quote I like from the series Girls : "All adventurous women do"
What would you tell your 10 year old self?
F**k them all! Stand up for yourself. Do your own thing. This too shall pass.