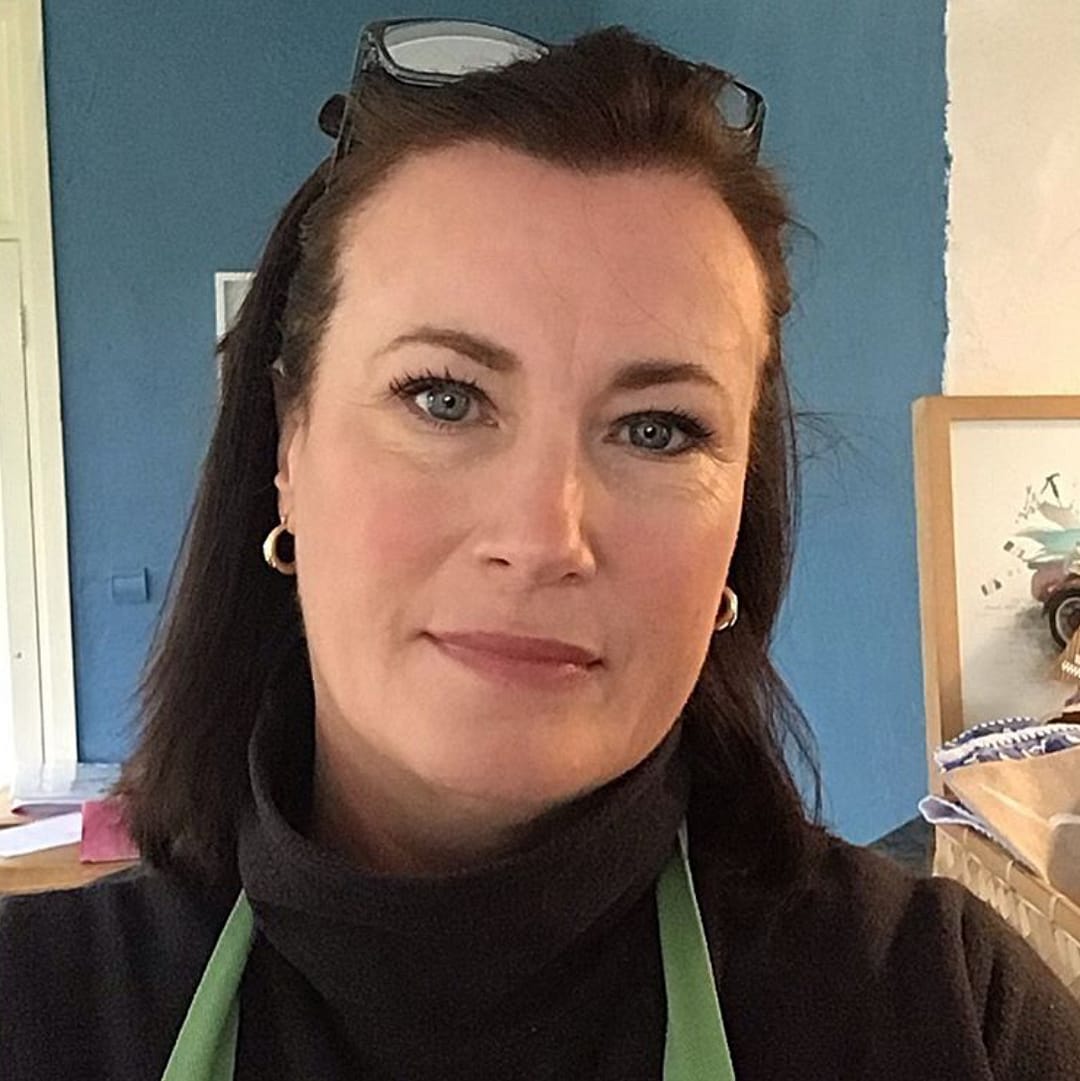 RUTH WALDRON, ART HOUSE WOMEN INTERVIEW
Ruth Waldron is an Irish artist living near Albi, France.  After university she pursued a career in Interior Design for 17 years, working in Ireland and the UK.  In 2009 she moved to Shanghai, China, with her husband and spent two years with a Chinese tutor, working on traditional ink and watercolour painting techniques.  Maintaining a fascination for the colours and motifs in traditional Chinese and Japanese watercolours, Ruth's paintings are semi-abstract and expressive in style.  Ruth has a full time painting practice based at her studio in the south of France. She works on paper, wood board and canvas, using acrylic, watercolour, oil pastels and ink.
How has your work practice changed within the covid-19 health crisis?  In terms of time, space, creativity.  Are you still able to create?
I have noticed a shift in my perspective since we went into lockdown here in France (7 weeks ago). At first I tried to focus on my art in my "normal way", following the current theme of my abstract Talisman Collection. The theme of this collection is rooted in my experience of the calligraphic art I was exposed to in Asia. We lived in China and Singapore for 9 years. The basic concept of this collection is drawn from Japanese Enso circle art, symbolising calm, fulfillment and wholeness. I had been focussing on these ideas for a few months before the Coronavirus crisis, and I felt that these sentiments were especially relevant during the crisis.  However, I found that I couldn't connect with that artwork in the same way as before and I stopped painting for a couple of weeks to take a break and see where I would focus next. When this feeling of disconnection happens, I find that I revert to doodling, making small sketches and drawing with my son. This often gives me a path to explore further.
What influences your work?
I believe that I absorb my inspiration from my surroundings so my work is an reflection and an interpretation of my life. We have been fortunate to travel extensively in Asia and Europe which has influenced me on so many levels . This can be seen in the strong influence of Asian culture on my use of colour, motif and line. Also, way back in time I was an interior designer and I believe that my love of interior textiles, and wall coverings has also influenced my use of colour and composition.
Describe your current work.
In recent weeks I have been drawing things from around the house.  I set up still lives of kitchen items and decorative pieces from around our home.  Using the blind contouring method, I produced some shapes I found interesting from the Chinese pottery we collected on our travels. I have always loved blue and white patterns, and the drawings became meditative and calming. From all of these sketches an idea for the blue and white pottery collages emerged, which is a totally new departure for me.
These recent paintings are paper collages of blue and white china and design elements on a painted canvas. The way I paint is very loose and and expressive and I really don't like anything to look too perfect. I arrange the compositions intuitively and make a conscious effort not to get caught up in obsessing over detail.
Tell us about your process.
I begin by preparing a number of canvases with thick layers of white house paint to create a rich surface texture. I use my hands and a silicone Catalyst wedge to make a smooth creamy texture. I then choose a predominant colour and build up the finish by combining layers of acrylic colour with a gloss medium to make a "polished" surface. The colour is sometimes solid, textured or striped.
While those layers of colour and medium are drying I make lots and lots of loose drawings of pots and motifs in blues and blacks on white paper. I use acrylic paint with lots of water to create an inky line with a Chinese brush. Then when they are dry, I cut them out and begin the process of composition which can sometimes fall into place quite quickly.
When I'm satisfied with the composition, I fix the paper elements to the canvas with a few layers of gel medium and finish with satin or gloss varnish. I also sign my pieces with a wax seal of my Chinese name chop. A name chop is the stamp that Chinese water colour artists use to sign their work. My Chinese teacher carved mine and I love using it on my work.
Where do you make?
When we lived in Singapore I used the dining table to work. However, now that we live in the French countryside, I am lucky enough to have a studio to myself in our barn. It's wonderful to have a place to work alone, where I can make as much mess as necessary when I'm painting.
What are you really proud of about yourself?
I am proud of the fact that I have committed to being an artist later in my life. I have wanted to be an artist forever, but I got caught up in the myth that it wasn't a real job. I was always trying to find ways to express myself creatively and that manifested in a career in interior design and later as a florist. I finally got the chance to focus on my art when we took the radical step to leave everything behind and move to China in 2009. It has been a real challenge and I have learned so much in the past 10 years. I look forward to continuing the learning and creating into the future.