AMELIA JAY, ART HOUSE WOMEN INTERVIEW
Amelia Jay is an artist living and working in a small village on the edge of the Ashdown Forest in the UK.  She has always enjoyed the timeless beauty of the countryside while walking with her family and dogs. In 2016 Amelia combined her love for the family's two soppy labradors with her love of painting, and started her career painting animal portraits.  It's not only dogs: cats, cows, pigs, hamsters and even seagulls have featured in Amelia's work. These have all been commissioned and her paintings hang all over the world – Mexico, France, Spain and Thailand. 
During lockdown this year, Amelia changed direction and began painting abstracts. These pieces are all made up from her memories of the beach, country walks and flowers.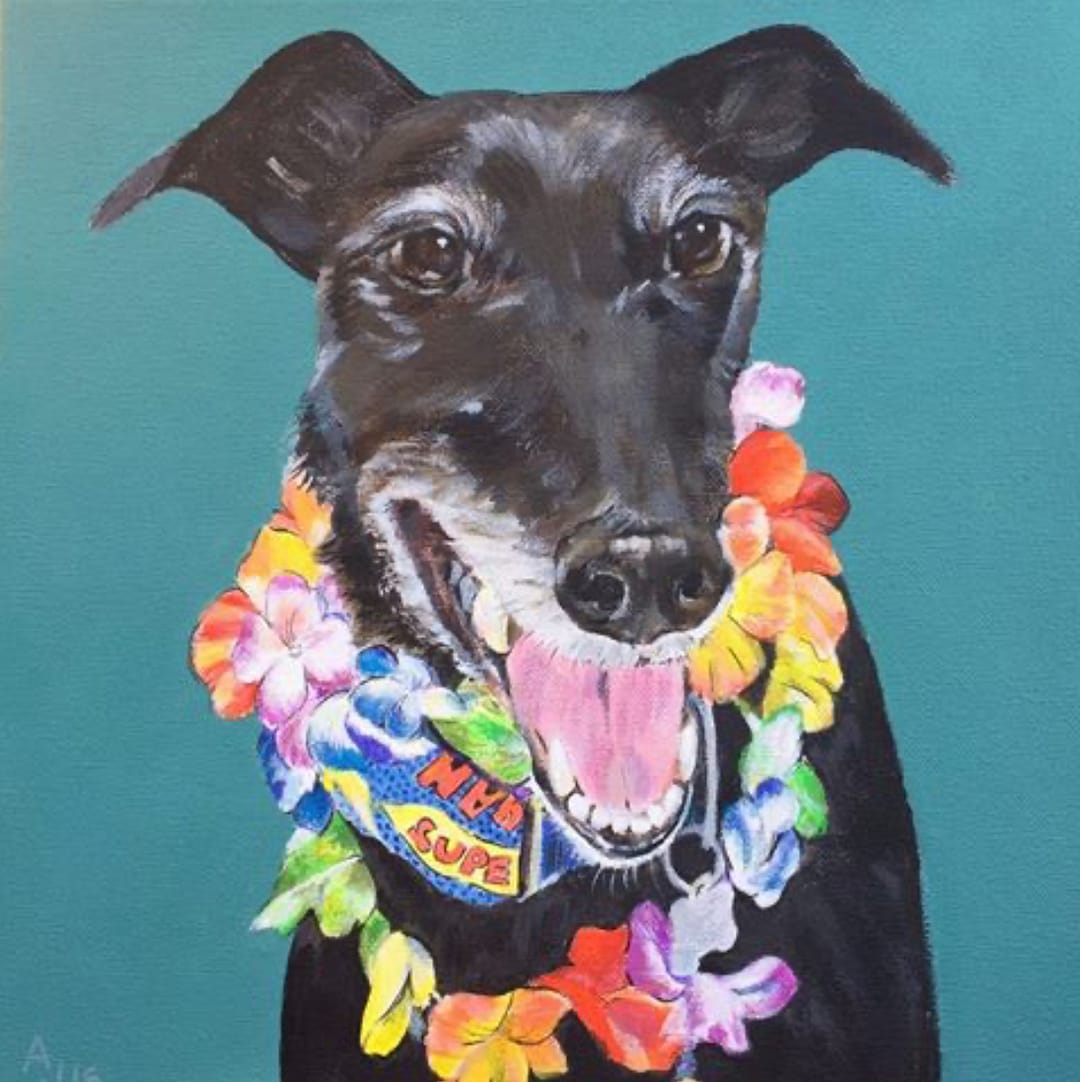 How has your work practice changed within the covid-19 health crisis?  In terms of time, space, creativity.  Are you still able to create?
For me the impact of this epidemic on my business was immediate. Within days all my commission work for the year was cancelled or postponed. All exhibitions and events were understandably cancelled. So I found myself not having an outlet for my creativity and no contact with customers or a platform from which to sell anymore. I wondered what I could do. Initially I just felt panicked and numb, especially as my husband is also a freelancer.
Trying to work during the first few weeks with children home, etc. just didn't happen!  I was just numb and didn't do anything. However after a few weeks I really missed having my usual creative time. I decided then that I had to keep it up, even if that meant changing direction. 
At this point in the UK we were only allowed out for one hour a day. I noticed I was yearning for the beach and hearing the sea. That wasn't possible, so instead I started to paint from memory. My first abstracts were heavily influenced by the water, waves and movement of the sea. They sold straight away and I couldn't believe it! For the first time I was working without a brief, doing exactly what I wanted with no restrictions. I was in control and totally trusting the process, something I'd always wanted to do but never actually done. Selling six paintings gave me a real boost!
Then I noticed flowers and bright colours were inspiring me. So the next six paintings have been big bold colourful abstract florals. I did them just for fun – for therapy in truth! Amazingly they all sold too. So this crazy time has taught me a valuable lesson. To allow time to play, paint everyday even if for small chunks of time and to trust the process!
What feeds your creativity?
Nature – every time! The countryside, beach, plants and flowers. Poetry and words,  particularly Rumi; song lyrics, all spark ideas too.
What other careers or jobs have you had, either before, or alongside your art practice?
After completing my Textile degree and graduating in 1995, I worked as a textile designer. Hand painting patterns that would sell for lingerie, swimwear, children's clothes and men's ties! Much of my work sold to Knickerbox (remember them?!) The Gap, C&A and American fashion brands. To see my prints on clothing in the stores was a real buzz. I loved doing that but after several years realised I could not make a living due to agents taking a whopping 50% cut! But it was a fantastic way to start and be shown the ropes at that young age.
What is the hardest part about being an artist for you?
Lack of time, unpredictable earnings and pricing work! For me as a mum of two primary aged children it is time! Although I do have the school day when they are out, it ends at 2.30 and then I need to wear my mum hat again.  I often crave more time and want to lock myself away. I suffer with guilt as I often feel selfish and frustrated by this. But I do realise how lucky I am to have my beautiful family and that it won't be like this forever! I've learnt to get up very early before the rest of the house does. Allowing me 2-3 hours working time before breakfast. This helps but then impacts me later in the day as I am a zombie by 9.30 in the evening.
I'm used to working from home on my own and have a good routine. I'm lucky to have a small room to work in and also use the garden when the weather is good enough. I live in a wonderful village that has a loving community who all support each other. And I'm lucky to have met loads of local creative people who provide a huge support network. 
Facebook and Instagram are brilliant places for me to show the world what I do and give me a platform from which to sell.
What would you tell your 10 year old self?
Don't ever stop playing! Look at everything around you and really notice things; be mindful and present.  Don't be the critic, just do the art and the rest will come. Trust the journey.