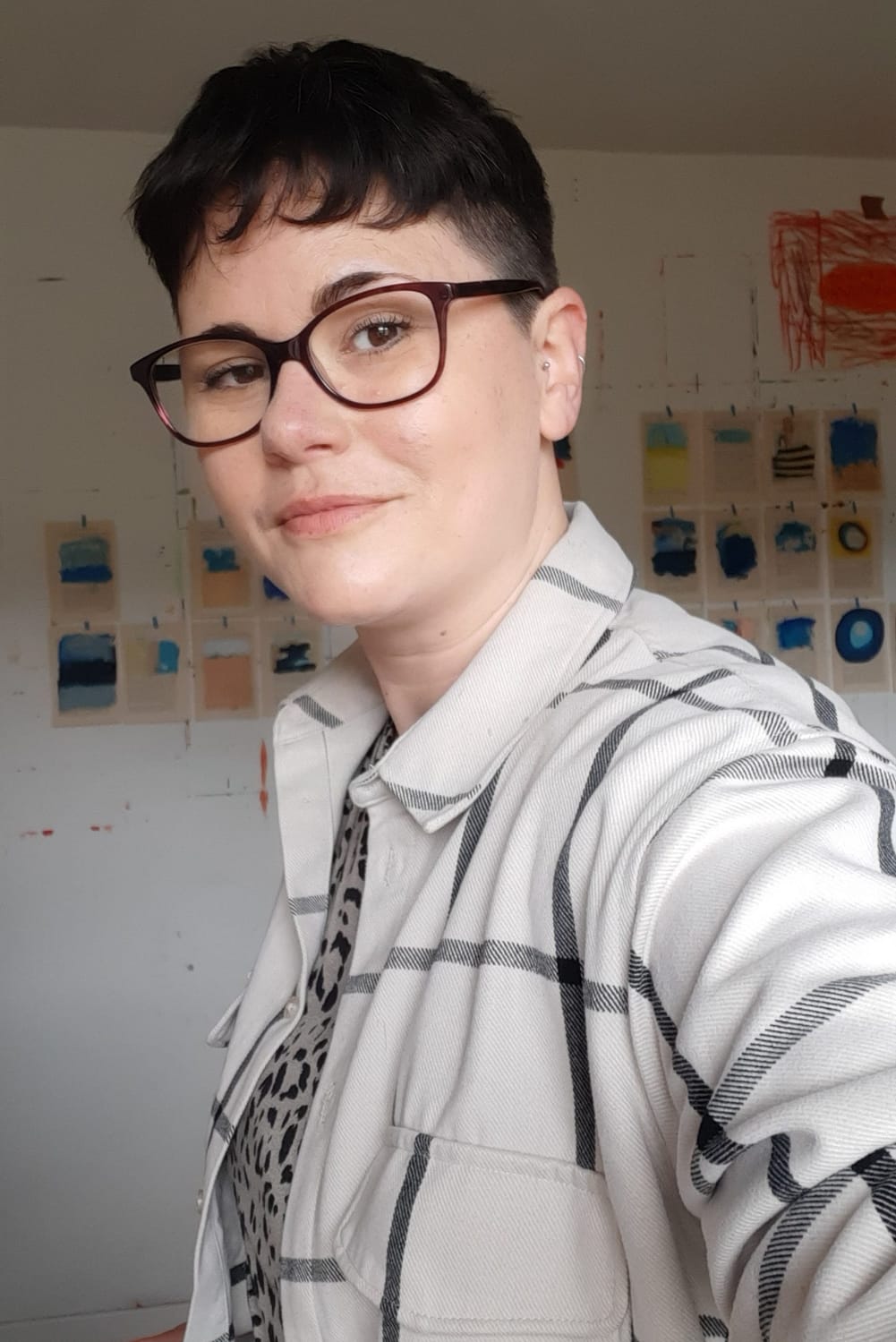 I am Sam and I am a painter and collage artist living on the border of East Sussex and Kent in the UK.  I moved from South East London with my family in 2018 and now I work from my home studio in the Sussex countryside.  My time is split between painting and looking after my two small children.
I am self-taught and started painting a lot after having my second baby, painting colourful abstract art.  I have never felt so fully myself as I do as an artist and a mum.  I take a lot of inspiration from my children, their creativity and how they see things.  As a result my pieces reflect a lot of the intense joy and simplicity of childhood, as well as a nostalgia for my own.  Colour is incredibly important to me; it is where I get my energy.
I work with acrylic paints on canvas or book pages, in a modern pop art style. My current collections of work, The Pages Series, are groups of bold colourful paintings on the individual pages of aged books. The artworks are a mixture of abstract and simplified line drawings of landscapes and everyday objects.

Recurring subjects in my work include: boats, fish, clouds, the sun, crescent moons and stars, flowers, fruit, cranes, figures, repeated patterns, buildings and landscapes.
I have a master's degree in Historical Research.
Before becoming a mum and artist, I have been a nursery assistant (kids not plants), a maths and English tutor, an event planner and a project manager.
I am a Feminist and an advocate for equal rights and inclusivity.
My favourite poem is How to Triumph Like a Girl by Ada Limón.
Artists that inspire me include: Francesco Clemente, Edgar Degas, Joan Miró, Pablo Picasso, Cy Twombly, Robert Rauschenberg, Benz Amataya, Lisa Congdon, Kia Cannons, Jordy Kerwick, Jo Hummel, Stephen Smith, Jessie Woodward, Alayne Spafford, Emily Filler, Danny Gretscher
If you have any questions for me, get in touch via social media (links below) or send me an email to sam@samhainesart.com